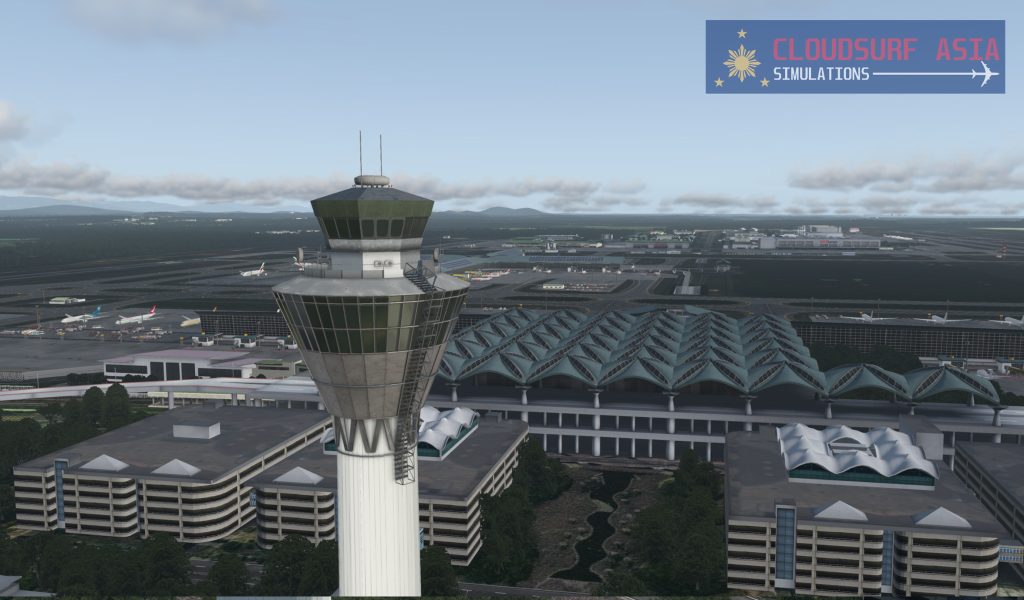 Kuala Lumpur International Airport (KLIA) + KL City
Kuala Lumpur International Airport (KLIA) (Bahasa Malaysia: Lapangan Terbang Antarabangsa Kuala Lumpur), (IATA: KUL, ICAO: WMKK) is Malaysia's main international airport and one of the biggest airports in Southeast Asia and worldwide. It is located in Sepang District of Selangor, approximately 45 kilometres (28 mi) south of Kuala Lumpur city centre and serves the Greater Klang Valley conurbation.
KLIA is the largest and busiest airport in Malaysia. In 2018, it handled 59,988,409 passengers, 714,669 tonnes of cargo and 399,827 aircraft movements. It is the world's 23rd-busiest airport by total passenger traffic.
The airport is operated by Malaysia Airports (MAHB) Sepang Sdn Bhd and is the major hub of Malaysia Airlines, MASkargo, AirAsia, AirAsia X, Malindo Air, flyGlobal, UPS Airlines and AsiaCargo Express.
SCENERY DESCRIPTION
This scenery is an attempt to represent Kuala Lumpur in as much as realistic as we can made with passion from Asia Pacific! After a long months of work, we are proud to announce that it is finally here. The scenery is full of custom objects and autogen based on real world geographic data. All structures are placed on exact location and as much as possible with same shape. With our custom developed program that maps data from OSM to your simulator, giving you the ambiance and immersive experience of being in the land of Malaysia. Below are features in this scenery package.
AIRPORT & CITY SCENERY FEATURES
Full Custom hand placed Objects, Facades, Autogen & Vegetation

HD Airport Structure Textures

Custom HD ground textures, taxi routes, taxiways & signs to represent the actual airport status

Airport markings are mimic 80% of the actual airport, including its RAMP signs

Full PBR textures on Airport buildings and some Land Mark buildings on the City

Photo realistic texturing, shadows and ambient occlusion texture baking on some structures

3D Modeled Terminal buildings (KLIA main, KLIA Satellite, KLIA2 and cargo terminals)

Stunning HDR lighting on all angle of airport

Stunning lighting textures across the city

Custom roads on Kuala Lumpur airport area

Custom Animated Airport Trains

Custom catering trucks & Buses specific to KLIA

High Resolution Satellite Imagery on airport area

Augmented ortho photos for the city with 10-0% cloud coverage (FREE!!)

Full custom autogen to represent the Malaysia communities and exact structure shape and locations based on real geographical data. We use our own custom program to generate auto gen based on Open Street Map data.

Fully implemented ground routes (Means 3rd party traffic are fully supported like Traffic Global, WT3, Live Traffic, etc. We highly recommend to use Traffic Global though for most accurate AI traffic and low FPS impact)

Animated Jetways using SAM Plugin, Custom model jetway and animation using SAM to replicate jetway in KLIA

FPS Friendly & Optimized (Depends on your machine and settings)
READ BEFORE BUYING THE SCENERY PACKAGE !!
Even though we tried our best to replicate Malaysia ambience, some areas are left unmodeled due to lack of access, lack of data and performance issues.

The autogen is not perfect, since our autogen relies on Open street map data, many areas in Kuala Lumpur are lacking data in OSM, resulting to no autogen to some areas. Some areas are replaced with hand placed auto gen custom made houses & buildings that represents Malaysia but they aren't perfect. This might improve in future as the OSM data of Kuala Lumpur improves and we will rescan data and release an update to autogen.

Some buildings might not look great in a very close distance since we tried to compress the texture sizes to minimal impact as we can due to hundreds of models included.

Airport structures might not be accurate at some area especially on locations we do not have access to. There are two reasons for this, 1st is we don't have sufficient data to model it, 2nd is we skip it for performance reasons.

No ground traffic on Airport area as of now since the GroundTraffic plugin is not yet working on X-Plane 11.50 version

Port Area & WMKF is not included, might be added on later updates but no promises

The scenery will surely needs some improvements. Improvements will come later on incremental updates but no promise on when will the updates come. But bug fixes will surely be patch as soon as possible.

We provide WMSA but they are not modeled yet due to too much workload. We will provide them in separate package soon. Please do not remove WMSA as it plays important role in the whole package.

What you see on the screenshots below is what you get. Please check screenshots below before buying. If you do not like what you see on our screenshots, please do not buy this product.

When buying this item, we don't provide refund should you want to do it for some reason. So before buying, please download first our FREEWARE products (we have tons) especially RPLL Mega Manila to see what you can get on this scenery package. Please also see screenshots below.
RECOMMENDED MACHINE SPECS
Processor: Core i5 or higher

8GB RAM minimum. Best is 16GB RAM or more

GPU: GTX 1050~ with atleast 6GB VRAM or higher (lower GPU haven't tested but said works just fine)
COMPATIBILITY, REQUIREMENTS AND SUPPORTED SIMULATORS
Make sure you have installed the SAM Plugin

X-Plane 11 Version 11.40~

X-Plane 11 Version 11.50~

X-Plane 12
ENHANCED LOCATIONS WITH CUSTOM 3D MODELS AND AUTOGEN
Kuala Lumpur City (Center)

Mont Kiara

Damansara Perdana

Shah Alam

Brickfields

Mid Valley City

Pantai Dalam

Bukit Jalil

Batu Caves

Bukit Damansara

Putrajaya

and more+

You can help us improve the product by providing us more accurate information you have
PLEASE CHECK THE SCREENSHOTS BELOW CAREFULLY TO SEE WHAT YOU WILL GET ON THIS PACKAGE. THIS PACKAGE IS VERY LARGE, DUE TO THE SCENERY AREA COVERED. YOU MIGHT WANT TO ADJUST YOUR SETTINGS.
DOWNLOAD PROCEDURE AND INSTALLATION
There are TWO download parts for the installation. The scenery itself and the ortho imagery. We separate download for the regional ortho imagery for ease of updates. The regional ortho imagery also is FREE and available for download to community if you don't want to buy the payware package.
INSTALLATION PROCEDURE (WMKK Airport + Kuala Lumpur City)
!! PART 1
Download the FREE regional Augmented Ortho Imagery VIA MEGA or VIA GOOGLE DRIVE

After downloading, unzip it and you should have two folders like below: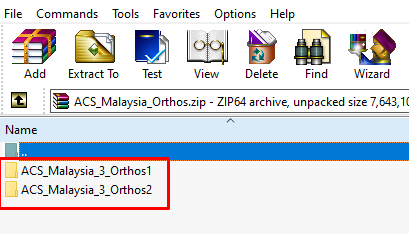 Drag and drop this TWO folders to you Custom Scenery folder in you X-Plane installation

You are done for PART 1, next Part 2 below.
Buy the Product in GUMROAD or SIMMARKET and download it (if you already bought it, proceed to next step below)

After downloading, Open the ZIP file, you will have 5 folders inside, see screenshot below: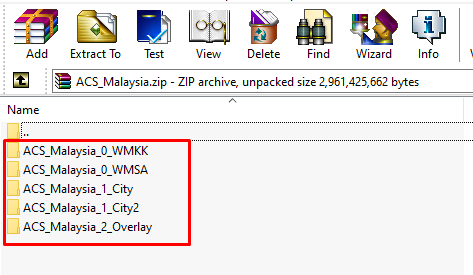 Drag and drop these 5 folders on your X-Plane 11 Custom Scenery Folder

And you should be good to go!

Your final folders in your Custom Scenery folder should look like this: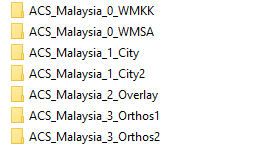 The folder "ACS_Malaysia_3_Orthos1" is an optional imagery. This contains the more detailed imagery in small highlight areas, if you are struggling with video card (GPU) memory, you can remove this folder. But it is highly recommended to keep it if you want the best looking result.

IMPORTANT! These folders should be in order as per screenshots above.
IMPORTANT! Make sure to remove any WMKK & WMSA scenery you have.
IMPORTANT! Make sure you have installed the SAM Plugin
IMPORTANT NOTE:
If you have custom scenery that is affected on the regional ortho imagery coverage, please make sure to put your scenery above our scenery so it will show on your simulator.

Note that in 11.50+ textures will be blurry if your plane is far on the object.

If you have any issues, please email us at

[email protected]
VERSION HISTORY
Version v0.1b

Version v0.2b

Version v1.0 

(Latest)
WMKK AIRPORT & CITY SCREENSHOTS